The Plastics Group of America (TPG) Honored by Woonsocket Fire Department
December 16, 2015
Department Grateful for Use of Company's Warehouse Facility
(Woonsocket, RI – December 16, 2015) – Woonsocket City officials gathered at The Plastic Group of America's holiday party earlier this month to honor the company for allowing the fire department to do emergency escape training at TPG's 84 Fairmont facility.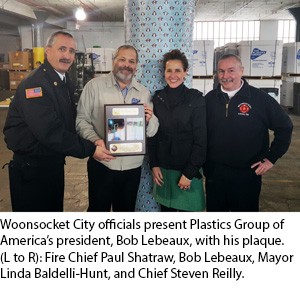 Fire Chief, Paul Shatraw, Mayor Linda Baldelli-Hunt and Captain Steven Reilly, who ran the training program, presented Plastics Group's president, Bob Lebeaux with a plaque that read:
"With sincere appreciation of the City of Woonsocket Fire Department for the use of your 84 Fairmont Street facility to train members on our Personal Escape Systems. Your generosity was instrumental in our mission to train our firefighters to the highest safety standards possible."
Bob Lebeaux once again reiterated "it was our pleasure to provide these brave men with a place to train. They serve and protect the citizens of Woonsocket every day, and I am glad that TPG was able to assist them in this program."
About TPG
The Plastics Group of America is a leading supplier and manufacturer of thermoplastic resins. Headquartered in Woonsocket, RI, TPG's services include custom compounding, toll processing, recycling, and distribution. For more information about any of the products or services that the Plastics Group of America has to offer, please call them at 800-984-4874 or visit their website at www.plasticsgroup.com.