The Plastics Group of America Earns ISO 9001:2008 Certification
March 28, 2016
Quality Control Certification Underscores TPG's Commitment to Its Customers
(Woonsocket, RI – March 28, 2016) – The Plastics Group of America (TPG) has recently earned ISO 9001:2008 certification for custom compounding and supply of reinforced thermoplastic resins. The company also was awarded Compliance to ISO/IEC 17025:2005 for the Measurement and Analysis of Resins.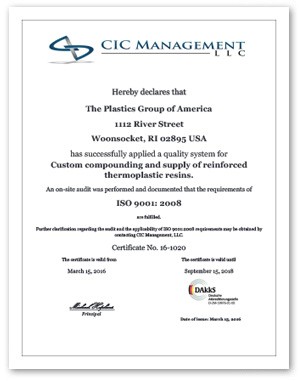 The Plastics Group of America takes quality seriously – in 1996, it became one of the few medium-size compounders in the U.S. to comply with the international quality standard. This December will mark twenty years of compliance for TPG.
ISO 9001:2008 certification has been in place for over a decade now and is used by both customers and companies as a method of controlling their quality. The Standard provides a framework to manage any business and ensures a philosophy of continual improvement in all aspects of that business.
Externally assessed, ISO 9001:2008 is based on eight quality management principles:
Customer focus: organizations depend on their customers, and therefore need to shape activities around the fulfillment of market need
Leadership: is needed to provide unity of purpose and direction
Involvement of people: creates an environment where people become fully involved in achieving the organization's objectives
Process approach: to achieve organizational objectives, resources and activities need to be managed as processes, with an understanding of how the outputs of one process affects the inputs of another
System approach to management: the effectiveness and efficiency of the organization depends on a systemized approach to work activities
Continual improvement: adopting this as a part of everyday culture is a key objective for an organization
Fact based decision-making: effective decisions are based on the logical and intuitive analysis of data and factual information
Mutually beneficial supplier relationships : such relationships will enhance the ability to create value.
The benefits of achieving ISO 9001:2008 certification include:
Involving top management in the improvement of the Quality management System which enables the organization to become a customer-focused organization.
Ensures sustained customer satisfaction by producing, delivering services and providing support functions that meet customer's needs and expectations.
Increases the effectiveness and efficiency of the organization through continual improvement in systems and products /services quality
TPG's Executive VP, Mike Rosenthal, commented, "we are thrilled to have once again earned ISO 9001:2008 certification. It demonstrates TPG's ongoing commitment to maintaining the highest quality standards for both the production of our products and the management of our company. Our customers appreciate our dedication to achieving this standard, understanding that it guarantees the highest possible quality for the products which we provide to them. I am equally proud to note that ISO 9001: 2015 has recently been released and TPG is working towards transitioning to that new standard at this time."
About TPG
The Plastics Group of America is a leading supplier and manufacturer of thermoplastic resins. Headquartered in Woonsocket, RI, TPG's services include custom compounding, toll processing, recycling, and distribution. For more information about any of the products or services that the Plastics Group of America has to offer, please call them at 800-984-4874 or visit their website at www.plasticsgroup.com.