Senator Jack Reed Visits Plastics Group of America (TPG) in Woonsocket
March 27, 2013
March 27, 2013 – (Woonsocket, RI – Wednesday, March 27, 2013): Yesterday, Rhode Island Senator Jack Reed paid a visit to the Plastics Group of America, touring both its existing production facility as well as the restoration project being done by the company at the Jules Desurmont Mill complex site on Fairmont Street in Woonsocket. Joining the Senator and his staff members at TPG were the Mayor of Woonsocket, the honorable Leo T. Fontaine, and Woonsocket's Director of Economic Development, Matt Wojcik.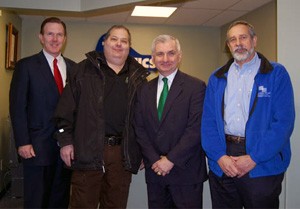 At the company's main plant, the focus of the tour led TPG's Executive Vice President, Mike Rosenthal, was the company's new multi-million dollar extruder that was recently installed. It will significantly enhance the company's production capabilities.
The Senator and Woonsocket city officials then joined Bob Lebeaux, TPG's president, for a brief visit to the nearby Jules Desurmont Mill site at 84 Fairmont Street. Bob showed his guests the many improvements that had already been made to the complex including cleaning up the site, updating the electrical, weather-proofing the building by improving the roof and installing new exterior windows and loading dock areas, adding sprinklers and clearing out and cleaning up the buildings lower floors. While there is still a lot to be done, TPG will continue to work at improving the facility and hopes to be able to move in sometime in the upcoming months.
The Senator's visit concluded with a brief discussion of the evolving business climate in the state along with thanks to Mike and Bob for taking the time to show them the buildings. TPG's leaders thanked the Senator for his time and interest in their business.
About TPG
The Plastics Group of America is a leading supplier and manufacturer of thermoplastic resins. Headquartered in Woonsocket, RI, TPG's range of services includes custom compounding, toll processing, recycling, and distribution. For more information about any of the products or services that the Plastics Group of America has to offer, please call them at 800-984-4874 or visit their website at www.plasticsgroup.com.