Plastics Group of America (TPG) Wins Prestigious PBN Manufacturing Award
April 9, 2014
Providence Business News Recognizes Company for Manufacturing Safety
(Woonsocket, RI – April 9, 2014) – The Plastics Group of America (TPG) has won the Providence Business News 2014 Manufacturing Award for Safety and Health Performance. The publication selects from among a number of Rhode Island businesses and recognizes those that they consider to be "greener, leaner and innovative." Plastics Group of America was one of 14 companies and individuals honored from among the hundreds that applied.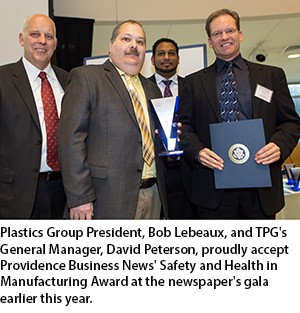 Bob Lebeaux, Plastic Group's president, proudly commented on the company's achievement: "Ever since I founded this company over 40 years ago, employee safety has been at the forefront of our internal focus here at Plastics Group of America. The company motto for interacting with clients is "Doing the Needful" which means going above and beyond what is expected when it comes to product quality and customer service to insure that each and every client with whom we deal is completely satisfied. We apply that same standard here at TPG to employee safety. Our ongoing training programs and performance reviews insure that the highest level of employee safety is achieved (and maintained) everywhere in our facilities. We are proud of the safe working environment we have created and the corresponding safety record that we have been able to achieve here at TPG through this commitment to employee safety."
The company will receive its award at an awards dinner to be held in late April at Bryant University.
About TPG
The Plastics Group of America is a leading supplier and manufacturer of thermoplastic resins. Headquartered in Woonsocket, RI, TPG's services include custom compounding, toll processing, recycling, and distribution. For more information about any of the products or services that the Plastics Group of America has to offer, please call them at 800-984-4874 or visit their website at www.plasticsgroup.com.