Plastics Group of America (TPG) Recognized for 17th Consecutive Year with OSHA's SHARP Award
January 20, 2014
(Woonsocket, RI – January 20, 2014) – The Plastics Group of America (TPG), a leading supplier and compounder of thermoplastic resins based in Woonsocket, RI, was once again recognized under the Occupational Safety and Health Administration's (OSHA) On-site Consultation Program's Safety and Health Achievement Recognition Program (SHARP). The program recognizes small- and medium-sized employers who operate an exemplary safety and health management system. Acceptance of a company's worksite into SHARP from OSHA is an achievement of status that singles a company out among its business peers as a model for worksite safety and health.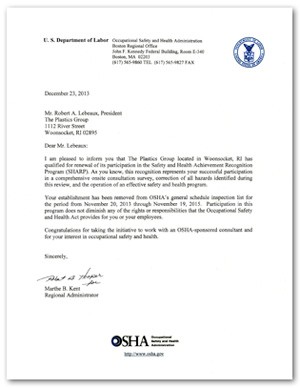 The Plastics Group first earned this award in 1997 and the company continues to meet all of the stringent criteria required for SHARP status. This includes demonstrating the ability to maintain their Safety and Health Programs at a high level, and, having an injury rate below the national industry level. The company's achievement of this standard for such a prolonged period is a positive reflection of its commitment to creating a safe work environment for its employees.
Bob Lebeaux, TPG's President, proudly stated "we are honored to once again earn this award – it is a testament to our ongoing corporate commitment to the well-being of our employees that has long been the standard here at TPG. We will continue to be dedicated to workplace safety, and our ongoing compliance with OSHA standards reflects this attitude. In a business where machines and materials are constantly on the move in order to achieve the timely delivery of product to our customers, this is a noteworthy accomplishment. We have worked hard to achieve the safety levels recognized by this award and will continue to maintain these strong business practices so that we can proudly announce its achievement again next year."
About TPG
The Plastics Group of America is a leading supplier and manufacturer of thermoplastic resins. Headquartered in Woonsocket, RI, TPG's services include custom compounding, toll processing, recycling, and distribution. For more information about any of the products or services that the Plastics Group of America has to offer, please call them at 800-984-4874 or visit their website at www.plasticsgroup.com.