Plastics Group of America (TPG) Celebrates Its 40th Business Anniversary
August 1, 2013
Celebrates Occasion with New Digs and Equipment
(Woonsocket, RI – August 1, 2013) – For the Plastics Group of America, year No. 40 has been eventful. The materials firm based in Woonsocket, R.I., earlier this year moved its warehousing and grinding operations to a 106-year-old wool mill complex. TPG also earlier this year added its third twin-screw extrusion line. "Last year was a very good year for us, and this year's looking to be good as well," Mike Rosenthal, executive vice president and co-owner, said in a recent phone interview. "We're plugging along."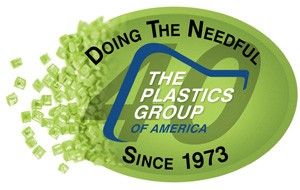 TPG opened its doors as Ralco Industries Inc. in 1973 in Manville, R.I., where it was founded by Bob Lebeaux. Lebeaux had just graduated from high school and was working for his father's firm — Rhode Island Polymers, a compounder and scrap broker in nearby Cranston — when a chance to market plastic film scrap came along.
"I just liked being in business and being my own boss," Lebeaux said in a news release. "If I succeeded or failed, it was on me."
Ralco began recycling plastics in 1978 and entered compounding in 1980 when it acquired the Polifil® line of polypropylene compounds from a defunct firm. The firm switched to its current name in 1988. Acquiring Polifil® "was a real change, because it got us into virgin, filled material," said Rosenthal, who joined childhood friend Lebeaux in the business in 1979.
Ralco first employed 12-15 workers at a 30,000-square-foot mill building. The Manville site had only one loading dock and a steep hill and creek behind the building, which made life challenging for the young firm.
By the mid-1980s, Ralco was employing more than 40 and had moved into its current 65,000-square-foot site. Today, TPG employs almost 50 and has annual sales of about $30 million, generating more than half of that from Polifil® compounds for food packaging, medical items and trays. The firm also continues to do toll compounding, as well as regrinding and reselling resin and brokering plastic scrap.
Occupying part of the 240,000-square-foot Jules Desurmont Worsted Mill — and buying the 7-acre parcel it sits on — came after TPG officials toured the site and found it to be in better shape than they had expected, even though it had been vacant for eight years and hadn't been used for manufacturing for at least 20 years. TPG invested more than $1 million in the site, including new sprinklers and a new electrical system, before moving into part of the mill, which is less than a mile from its existing site. The mill is TPG's first new location since 2008, when it ended a 10-year run of operating a recycling plant in Blairsville, Ga. Over four decades, TPG has adjusted to its customer base, which Rosenthal said "started out as more local, but now is more located all across the country." The firm also has added technology and achieved ISO certification.
Lebeaux said TPG has benefited from a long-ago decision to avoid the automotive market, which, he said, has "too much competition and too much fluctuation." He added that the firm's strategy to go after truckload-sized business instead of rail cars "opened up a lot of doors for us." Looking ahead, Lebeaux said he expects the materials market to see "a continuing of wild, somewhat unpredictable price swings," although he added that TPG "tries to keep prices as stable as possible."
As for being with TPG for 34 of its first 40 years, Rosenthal admitted that wasn't his expectation when he came on board. "I don't think I gave it much thought," he said. "I started the job and liked it. I'm a pretty stable guy, but I think I've grown along with the position."
For his part, Lebeaux is proud of what the firm has accomplished. "The fact that TPG is still in business 40 years after we started is a testament to our tenacity and commitment," he said.
About TPG
The Plastics Group of America is a leading supplier and manufacturer of thermoplastic resins. Headquartered in Woonsocket, RI, TPG's services include custom compounding, toll processing, recycling, and distribution. For more information about any of the products or services that the Plastics Group of America has to offer, please call them at 800-984-4874 or visit their website at www.plasticsgroup.com.