Plastics Group of America (TPG) Adds a Third Extruder
June 1, 2013
New Equipment Will Measurably Increase Production Capabilities
(Woonsocket, RI – June 1, 2013) – The Plastics Group of America, a leading supplier and manufacturer of thermoplastic resins headquartered in Woonsocket, RI, recently expanded its production capabilities by adding a third twin-screw extrusion line.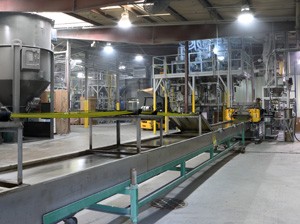 Adding this extruder will enable Plastics Group of America to significantly increase its production capacity.
Plastics Group president, Bob Lebeaux, proudly stated "adding this extruder will allow us to manufacture and deliver our Polifil® resins faster than ever before, measurably reducing the time between order placement and delivery."
Bob continued, adding "this extruder will also allow us to remain extremely competitive with our pricing. Our customers know that we have been "Doing the Needful Since 1973," providing them with quality products and exceptional customer service. The addition of this extruder is just another example of our willingness to reinvest in our operations to optimize our customer service."
About TPG
TPG's services include custom compounding, toll processing, recycling, and distribution. For more information about any of the products or services that the Plastics Group of America has to offer, please call them at 800-984-4874 or visit their website at www.plasticsgroup.com.