Plastics Group of America Providing Its Employees With Access to Required Safety Equipment
February 1, 2018
Teaming with Fastenal to Create a Safer Work Environment
(Woonsocket, Rhode Island) – The Plastics Group of America (TPG) is working with Fastenal to keep its workers safer by providing them with access to a vending machine that contains the safety equipment they need to do their job more effectively. Fastenal provides companies with the supplies they need to properly protect personnel and maintain facilities and equipment.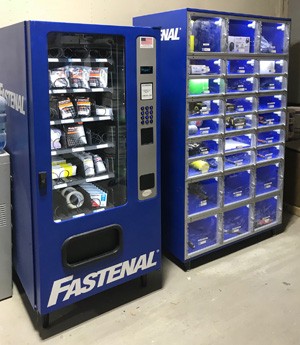 The Fastenal Industrial Vending solution was installed last quarter to help keep employees properly outfitted when on the job. Occasionally, even the most responsible of workers will inadvertently forget required safety equipment like goggles, gloves, or the like – Fastenal's industrial vending solution offers them safety product access 24/7 while providing TPG with comprehensive usage tracking.
TPG's Product Integrity Supervisor, Chuck Clarke, provided some insights regarding the company's utilization of the machine. He stated "all of the Safety PPE (Personal Protection Equipment) such as safety glasses, ear protection (2 types), gloves (3 types) and respirators (2 types) are stocked in the machine. We also keep in stock the essential items needed on a daily basis to keep all of the TPG production lines running smoothly as well as the tools needed to do certain jobs. These items include label and printer ink, safety harnesses, patches for super sacks, packing tape, and yellow duct tape.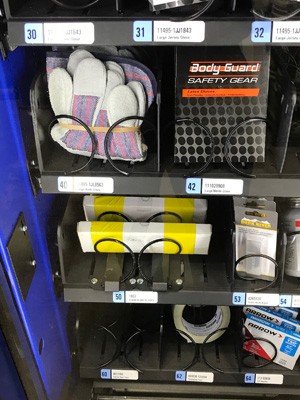 Chuck also noted that some of the articles in the machines are on a Check In/Check Out basis – these items, available with shift supervisor control only, have to be returned to the machine when done being used. He added that the company has also provided all of its employees with lockers so they can keep their PPE for more than one shift.
Chuck added that while there is no cost to the employees, we do stress that it's not free range and that ultimately, they have to be responsible for their PPE. He concluded by saying "I think the employee's appreciate the convenience of not having to wait, sometimes up to hours, for the few supervisors to come in that did have access to what is now available in the vending machines."
Fastenal representatives check with TPG on a regular basis to make sure that the machine is properly stocked. It is a simple yet reliable system – the result – both productivity and safety are optimized. It's another example of TPG "Doing the Needful -" this time, for its valued employees.
About TPG
The Plastics Group of America is a leading supplier and manufacturer of thermoplastic resins. Headquartered in Woonsocket, RI, TPG's services include custom compounding, toll processing, recycling, and distribution. For more information about any of the products or services that the Plastics Group of America has to offer, please call them at 800-984-4874 or visit their website at www.plasticsgroup.com.