Plastics Group of America Installing a New Vertical Lift At Its Fairmount Warehouse and Distribution Facility
May 30, 2018
Installation Will Positively Impact Corporate Productivity
(Woonsocket, Rhode Island) – The Plastics Group of America is nearing completion on its new vertical lift at its Warehouse and Distribution facility located at 84 Fairmount Street in Woonsocket.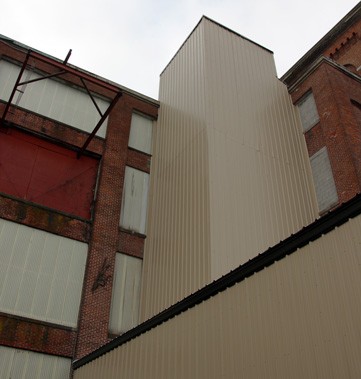 Once installed, along with providing improved access to the upper floors at the building (and the additional 250,000 square feet of space found there), the lift will allow for a more rapid transfer of products, whether being delivered or shipped. Its construction follows on the installation of a complex drainage system outside the building to insure site dryness regardless of weather conditions.
Each represents yet another commitment by TPG to optimize its operational efficiency and improve customer service. TPG President, Bob Lebeaux, commented "we are quite proud of this new installation – it will measurably enhance our ability to get our high-quality, custom-compounded resins out the door and into the hands of our customers sooner. It will also provide us with access to thousands of additional square feet of usable space that we can build out when needed."
About TPG
The Plastics Group of America is a leading supplier and manufacturer of thermoplastic resins. Headquartered in Woonsocket, RI, TPG's services include custom compounding, toll processing, recycling, and distribution. For more information about any of the products or services that the Plastics Group of America has to offer, please call them at 800-984-4874 or visit their website at www.plasticsgroup.com.