Plastics Group of America Expands Its Production Capabilities
October 10, 2012
October 10, 2012 – (Woonsocket, Rhode Island – October 10, 2012) – Michael Rosenthal, Executive Vice President at The Plastics Group of America (TPG), announced today that the company had measurably increased its production capacity through the recent installation of an NBE Whirlwind vertical silo mixer at its River Street location.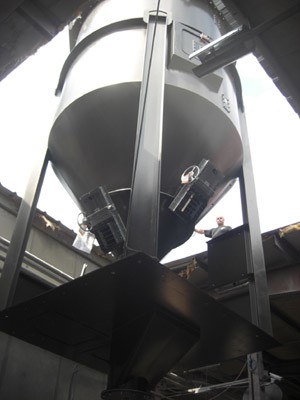 This new mixer, which holds up to 28,000 lbs., is used to homogenize large batches of resins and regrinds prior to pelletizing or compounding. This process insures a consistent finished product for TPG's Polifil RP products which contain post-industrial and post-consumer recycled materials to customers' specifications.
It is the 3rd large silo mixer in operation in the plant and it complements TPG's in-house capabilities to shred, grind, and densify recycled materials. TPG is one of the few suppliers in the industry with in-house capabilities for all phases of recycled plastic production – transporting, shredding, grinding, blending, compounding, in-house testing in our ISO certified laboratory.
The installation of the mixer required modifications to the existing facility, but the Plastics Group of America was happy to make them. As Mike stated "the addition of this mixer underscores our commitment to "Doing the Needful" when it comes to providing our customers with the exceptional products and fast turnaround they're looking for. We will do whatever it takes to improve product quality and reduce time to delivery in order to keep our customers satisfied."
About TPG
The Plastics Group of America is a leading supplier and manufacturer of thermoplastic resins. Headquartered in Woonsocket, RI, TPG's range of services includes custom compounding, toll processing, recycling, and distribution. For more information about any of the products or services that the Plastics Group of America has to offer, please call them at 800-984-4874 or visit their website at www.plasticsgroup.com.