NSF Product Certification
August 10, 2020
Certification to NSF/ANSI Standard 61 ensures NSF listed TPG products meet the regulatory requirements of the U.S. and Canada for Drinking Water Systems Components – Health Effects, and it can often meet or fulfill the testing requirements for many other countries as well. NSF certification is a mark of distinction which provides TPG customers with assurance that their final product is safe for use in drinking water.
NSF/ANSI 61 testing covers all products with drinking water contact from source to tap, and determines what contaminants may migrate or leach from your product into drinking water. It also confirms if they are below the maximum levels allowed to be considered safe.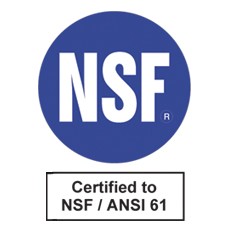 Several Plastics Group of America products are listed and certified by NSF. This NSF listing can eliminate the need for some additional testing on the final product. This can significantly reduce both your cost and the time required for evaluation.
NSF Product and Service Listing
Plastics Group of America NSF Listed product certification is available through the NSF online directory at NSF Product and Service Listing.